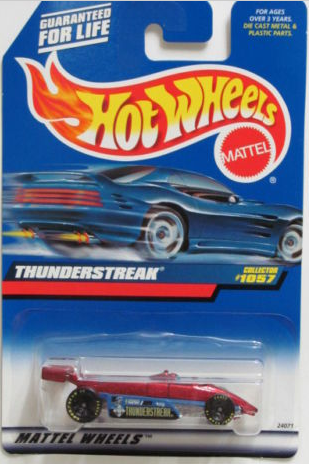 1999 Hot Wheels Thunderstreak Collector Number 1057, originally released in 1999, is part of the Hot Wheels Collector Number Series and is also a member of my personal collection.
This is a re-issue of Formula Fever(1983), there is casting number change also. In all appearences they look like the same casting.

The Casting does make a big change in 1992, with the wing moving from cast with the base to cast into the body. It much taller and longer. To a more modern design.
Model Details –
Designer: [???]
Vehicle: Thunderstreak
Year: 1999
Collector #: 1057
Series & #: Collector Number 1057
Colors: dark metallic red
Tampos: 'Hot Wheels' logo in blue on white banner on sides blue background, 'Thunderstreak' logo in white and silver on sides and spoiler, 'Thunderstreak' in yellow on black background on sides and spoiler, two narrow white stripes on spoiler, assorted sponsors on sides, 'Good Year Eagle' on tires in yellow, runners on side of vehicle in blue with metal steps
Interior: blue, plastic
Windows: [???]
Misc Details: [???]
Base: unpainted, metal
Wheels: black 5 spoke wheels
Toy #: 5142
Country: China
Base Codes: [???]
Variations: [???]
Photo Credits: [???]
Contributor Credits: @Stanley
Notes: [???] indicates missing data, join our Diecast Forum to contribute
1999 Card Back –
Related Models/Series –
Attribution –
Disclaimers -
Do you have a comment or suggestion or want to submit an article or photo for possible publication? Feel free to reach out to us via our Contact Us Form or use our Diecast Forum.
Hot Wheels® is a trademark of Mattel, Inc. which does not sponsor, authorize or endorse this site -

despite how awesome it is!

DNN is not responsible for typographical errors, pricing errors, price changes, price mistakes or adjustments.