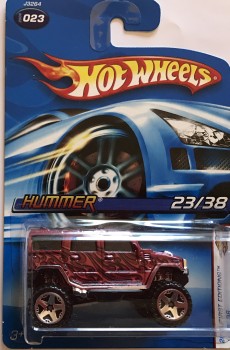 Hot Wheels Hummer H2 2006 First Editions Model 23/38
Part of my personal collection, this Hot Wheels Hummer H2 is part of the Hot Wheels 2006 First Editions series and is the first entry into Flashback Fridays. Flashback Fridays is where I intend to showcase one die-cast model that was issued a decade ago or earlier!
Two color variants of this model came out in this series, one in metalflake dark red (pictured) and another in metalflake dark blue.
Model Details –
Designer: Rob Matthes
Vehicle: Hummer H2 (2006)
Year: 2006
Collector #: 023
Series & #: 2006 First Editions 23/38
Colors: metalflake dark red
Tampos: orange and black tampos on sides
Interior Color: chrome
Windows: smoked, plastic
Base: black
Wheels: OR5SP
Toy #: 240105
Country: Malaysia
Base Codes:
Variations: YES – according to reference materials there are at least two color variations 'metalflake dark red' or 'metalflake dark blue' and five different variations in all of this series/model. Check out the books and guides we use as reference.
Photo Credits: @Stanley
Contributor Credits: @Stanley
Notes: [???] indicates missing data, join our Diecast Forum to contribute
2006 Card Back –
Related Models/Series –
You May Also Enjoy –

Attribution –