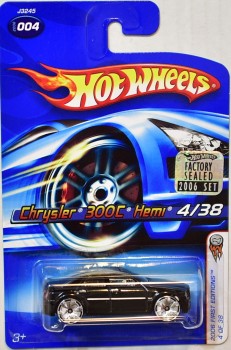 2006 Hot Wheels Chrysler 300C, 2006 First Editions Model 4/38
Part of my personal collection, this Hot Wheels Chrysler 300C is part of the Hot Wheels 2006 First Editions series.
The Chrysler 300C was designed to be a modern interpretation of the Chrysler C-300, featuring a large grille, long hood and low roofline that was prominent on those vehicles. The styling retained many elements of the 1998 Chrysler Chronos concept car, such as chrome interior accents and tortoiseshell finishings on the steering wheel and shifter knob.

The top-of-the-line 300C version uses a 5.7 L (345 cu in) Hemi V8. Using the Multidisplacement System (MDS), this engine can run on four cylinders when less power is needed in order to reduce total fuel consumption. When the Hemi's all eight cylinders are needed, the 300C can make 340 hp (250 kW) and 390 lb·ft (530 N·m) torque. It uses a five-speed automatic transmission and comes standard with 18-inch chrome-clad alloy wheels
Model Details –
Designer: Phil Riehlman
Vehicle: Chrysler 300C
Year: 2006
Collector #: 004/223
Series & #: 2006 First Editions
Colors: black
Tampos: white painted "HEMI" emblem on fender behind front wheel; white "300" with black painted "HEMI" emblem on right side of trunk lid by tail light; black & white painted headlights; orange front directional lights, red, orange & gray painted tail lights; siler painted door handles & side molding
Interior: chrome
Windows: tinted
Misc Details: chrome grille
Base: black, plastic
Wheels: all large "Bling wheels"
Toy #: J3245
Country: Malaysia
Base Codes: [???]
Variations: YES – according to reference materials there are at least four variations of this series/model. Check out the books and guides we use as reference.
Photo Credits: [???]
Contributor Credits: @Stanley
Notes: [???] indicates missing data, join our Diecast Forum to contribute
2006 Card Back –
FUN FACTS! – Mattel made a Blings version of the Chrysler 300C as part of the 2005 First Editions series with scaled-down 40-inch rims!
Related Models/Series –
You May Also Enjoy –

Attribution –