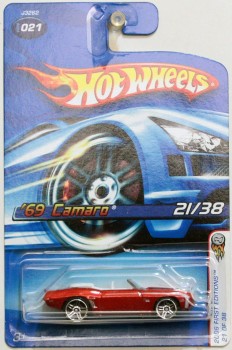 2006 Hot Wheels '69 Camaro, 2006 First Editions Model 21/38
Welcome to another edition of "Muscle Car Monday", where each Monday we showcase a die-cast model that represents the spirit of the Muscle Car era – both past and present.
Here, in our second entry, we present the '69 Chevy Camaro Convertible, which was released in 2006 as model 6/10 in the 2006 First Editions Series!
Real Wheels: The Chevrolet Camaro is an American automobile manufactured by Chevrolet. This casting is based off of the first-generation Camaro which went on sale in September 1966, for the 1967 model year, and was designed as a competing model to the Ford Mustang.

The Camaro was built on a new rear-wheel drive GM F-body platform, and was available as a two-door coupé or convertible with 2+2 seating, and a choice of 230 cu in (3.8 L), 250 cu in (4.1 L) inline-6 or 302 cu in (4.9 L), 307 cu in (5.0 L), 327 cu in (5.4 L), 350 cu in (5.7 L), 396 cu in (6.5 L), 427 cu in (7.0 L) V8 powerplants.
Please note that there are 2 castings referred to as the '69 Camaro –
The first '69 Camaro was released in 2006 and the model that we are referencing here. It was based off of the convertible version actual production model.
The second '69 Camaro was released in 2008. It was tooled from the first '69 Camaro. It was based off of the hard top version actual production model.
Model Details –
Designer: [???]
Vehicle: '69 Camaro
Year: 2006
Collector #: 021/223
Series & #: 2006 First Editions 21/38
Colors: red
Tampos: white stripe on sides; silver vents
Interior: white plastic
Windows: clear plastic
Misc Details: black plastic front grille
Base: black plastic
Wheels: PR5
Toy #: J32625
Country: Malaysia
Base Codes: [???]
Variations: YES – according to reference materials there are at least eight variations of this series/model. Check out the books and guides we use as reference.
Photo Credits: [???]
Contributor Credits: @Stanley
Notes: [???] indicates missing data, join our Diecast Forum to contribute
2006 Card Back –
FUN FACTS! – Did you know that the background artwork on the 2006 Hot Wheels Poster is of the '69 Camaro Convertible?
Related Models/Series –
You May Also Enjoy –

Attribution –